Chapter One: Page Twenty-Four
Aaand that's the end of chapter one!
I hope you all enjoyed it. I enjoyed making it. I'm going to take a small break to do some scripting and to work a bit more on my buffer. The chapter two cover will go up on December 18th, and then the first page of chapter two will go up on January 1st, which is when regular updates will resume :)
In the meantime, I will continue to make news posts to promote the Comic of the Week. This week I'm promoting Sunset Grill!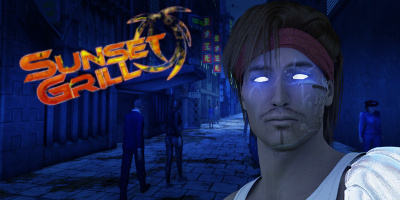 Gangsters. Soldiers. Public defenders. Ordinary people struggling to survive in an extraordinary future. They all have one thing in common: they all drink beer.
See you all soon!
Transmission Date: November 27, 2016